Revisar la implementación del aprendizaje electrónico: lección aprendida de la pandemia COVID-19
Resumen
El brote de COVID-19 no solo tiene un impacto en la salud humana, sino que también afecta otros aspectos de la vida humana, incluido el sector de la educación (Huang et al., 2020). En muchos países, la recomendación de las autoridades sanitarias obligó al sector de la educación a encontrar una alternativa a los métodos de entrega cara a cara. La implementación del e-learning durante el brote de COVID-19 es crucial. Debido a la duración del brote de COVID-19, nadie puede confirmar que el proceso de aprendizaje no debe interrumpirse en caso de interrupción.
Descargas
Los datos de descargas todavía no están disponibles.
Referencias
Chakravorti, B., & Chaturvedi, R. S. (2019). Ranking 42 Countries by Ease of Doing Digital Business. Harvard Business Review Home. https://hbr.org/2019/09/ranking-42-countries-by-ease-of-doing-digital-business
Dwidienawati, D., Abdinagoro, S. B., Tjahjana, D., Gandasari, D., & Munawaroh, Z. (2020). Forced shifting to e-learning during the covid-19 outbreak: Information quality, system quality, service quality, and goal orientation influence to e-learning satisfaction and perceived performance. International Journal of Advanced Trends in Computer Science and Engineering, 9(2), 1518–1525. http://www.warse.org/IJATCSE/static/pdf/file/ijatcse93922020.pdf
Dwidienawati, D., Abdinagoro, S. B., Tjahjana, D., & Gandasari, D. (2020). E-Learning Implementation during The COVID-19 outbreak: The Perspective of Students and Lecturers. Jourlan of the Social Sciences, 48(4), 1190–1201.
Dwidienawati, D., Bramatoro, S., & Tjahjana D. (2020). Face-to-Face and Lessons Learned from the Forced Shift to E-Learning during the COVID-19 Outbreak. International Journal of Innovation, Creativity and Change, 13(11), 119–134.
Gandasari, D., & Dwidienawati, D. (2020). Evaluation of Online Learning with Digital Communication media during the COVID 19 Pandemic. Jourlan of the Social Sciences, 48(3), 1062–1073. https://www.researchgate.net/profile/D-Gandasari/publication/343569066_1062-107321470/links/5f321312299bf13404b72342/1062-107321470.pdf
Huang, R. H., Liu, D. J., Tlili, A., Yang, J. F., Wang, H.H., et al. (2020). Handbook on Facilitating Flexible Learning During Educational Disruption: The Chinese Experience in Maintaining Undisrupted Learning in COVID-19 Outbreak. Smart Learning Institute of Beijing Normal University. https://iite.unesco.org/wp-content/uploads/2020/03/Handbook-on-Facilitating-Flexible-Learning-in-COVID-19-Outbreak-SLIBNU-V1.2-20200315.pdf
Manion, J. L. (2019). A Mixed Methods Investigation of Student Achievement and Satisfaction in Traditional versus Online Learning Environments (Doctoral dissertation). Lindenwood University. https://search.proquest.com/openview/2a0d1b80a23dc5e25d9fbf86aa71c2f4/1?pq-origsite=gscholar&cbl=18750&diss=y
Pham, L., Williamson, S., & Berry R. (2018). Student perceptions of E-learning service quality, E-satisfaction, and E-loyalty. International Journal of Enterprise Information, 14(3):19-40. https://doi.org/10.4018/IJEIS.2018070102
Shachar, M., & Neumann, Y. (2010). Twenty years of research on the academic performance differences between traditional and distance learning: Summative meta-analysis and trend. MERLOT Journal of Online Learning and Teaching, 6(2), 318–334. http://jolt.merlot.org/vol6no2/shachar_0610.pdf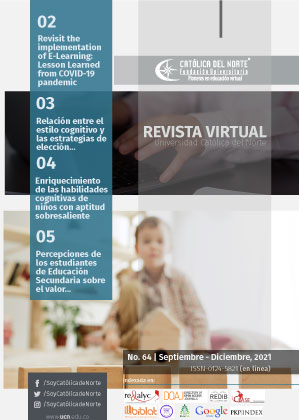 Descargas
Cómo citar
Dwidienawati, D. (2021). Revisar la implementación del aprendizaje electrónico: lección aprendida de la pandemia COVID-19. Revista Virtual Universidad Católica Del Norte, (64), 1–4. https://doi.org/10.35575/rvucn.n64a1